When designing equipment that requires lubrication via grease fittings, it is always best to engineer it so the fittings can be accessed easily for ongoing lubrication/maintenance – grease fittings are meant to be greased after all.  But not every machine, or the maintenance worker responsible for lubricating the machinery, is designed with lubrication as the top priority.  Furthermore, as machinery gets upgrades or customizations over the years, the convenience of easy access to grease fittings is often sacrificed to make room for the enhancement.  These are a few of the common reasons explaining the need for the grease fitting accessories shown below.  In many instances, grease fitting accessories are the difference between proper lubrication of equipment and no lubrication, which can ultimately lead to mechanical failures.

Grease Fitting Extensions are used to extend the area where a fitting is being installed.  Simply screw the male end of the extension into the bearing housing or whatever component the fitting is lubricating and attach the fitting to the opposite/female end.  Grease fitting extensions can provide over ½ inch extra access, which is often enough to overcome any 'flush' mounted components that may be obstructing access to the fitting. Extensions can also be attached to other types of grease fitting adapters to improve access as needed.
Grease Fitting Adapters are required when there is a need to change the access angle of the grease fitting.  Simply replace a straight fitting with a 45- or 90-degree adapter and the screw the fitting into the adapter to provide a new angle for accessing the fitting to lubricate.  You can also replace an angled fitting with a straight adapter if needed.  Just like extensions, grease fitting adapters can be joined to each other to extend/adjust the angle.

Grease Fitting Elbows are designed to change the angle of a fitting or act as an extension.  Similar to adapters, these elbows change the angle of the grease fitting to improve access for ongoing lubrication and maintenance.  They come in a wider variety of sizes and have options for male ends on both ends.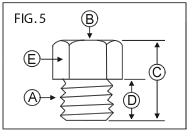 Metric to English Grease Fitting Adapters convert fittings from metric to English sizes.  Simply remove the metric thread grease fitting and screw the male threaded end of this adapter into the female port to use American standard grease fitting sizes.  This popular accessory is a must-have for any lubrication specialist and can be a real 'time-saver'.
Grease Fitting Plugs are used to seal an opening where a grease fitting was once installed.
Grease Fitting Bushings are heavy-duty adapters which allow different thread sized fittings to join together.  Bushings are commonly used when extension is not needed, but thread type must be adapted to accept the required grease fitting.
Contact Us with your grease fitting challenges and we'll accessorize your grease fittings.