In our last blog post we boiled grease fitting sizes down to three critical dimensions (Thread Size, Overall Height, and Hex) for the purpose of gaining a fundamental understanding of grease fitting sizes and how to determine the right size grease fitting for your application.  In this post we will expand on those fundamentals and dive a little deeper into the anatomy of a grease fitting because Murphy's law inevitably comes into place when one finds themselves working in crammed spaces and it never hurts to be prepared!
NOTE: We will once again reference the ¼"-28 Taper Thread Grease Fittings as our example because these are the most commonly used grease fittings.
A figure similar to the one below was used in our last post to help demonstrate the 3 fundamental/primary dimensions used when determining the size of grease fitting you need for your application.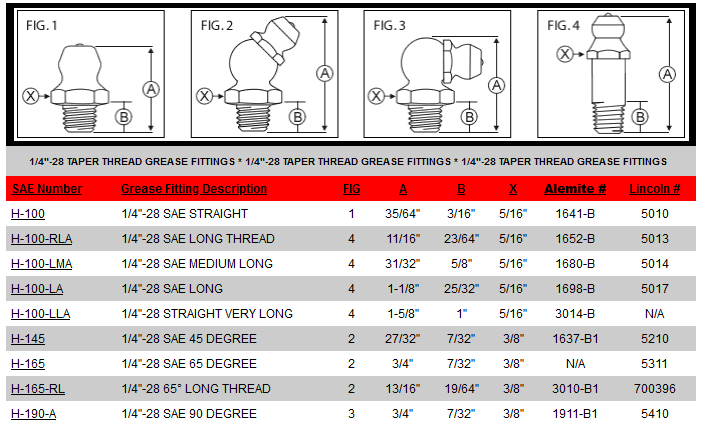 The figures below show schematics for each of the nine sizes of taper thread grease fittings, but there's no need to let the 'complexities' shown below cause you confusion.  Your selection of grease fitting will still be determined by the A, B, and X dimensions and angle requirement.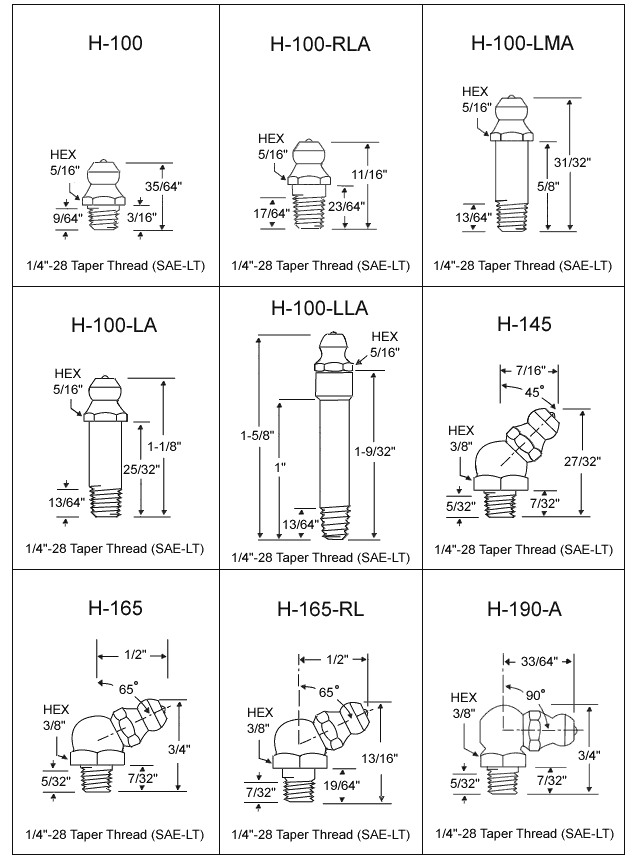 You can see how these fittings could actually be configured in an almost infinite number of sizes, yet there are only 9 stock sizes of Taper Thread Grease Fittings.  Why?
Standards for grease fittings dictate that they shall conform to specifications from the Society of Automotive Engineers (SAE) and/or the International Standards Organization (ISO).   These have been established to ensure consistent manufacturability and meet real-world applications which tend to 'naturally' define a reasonable limit to the number of configurations available.  All grease fittings sold by SAE Products® meet or exceed all governing standards and we are certified under ISO 9001:2015 for commercial applications and AS9100D for aerospace applications (click here for a pdf copy of our most recent ISO certificate).
Looking for an ISO 9001:2015 and AS9100D Certified Supplier of Grease Fittings?  Contact Us