Your selection of grease fitting couplers is dependent upon the style of grease fitting it will connect to. As discussed in a previous blog post, there are almost as many styles of grease fitting couplers as there are grease fittings. Not to worry….by following the steps below, you will get it right every time!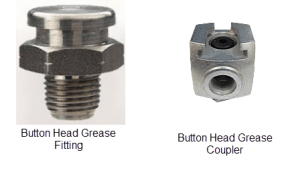 Selecting the correct coupling is critical to ensuring a properly lubricated system.
First, identify the style of the grease fitting you need to connect to.

If it's a standard fitting then a standard hydraulic coupler will do
If a button head grease fitting, then you must choose a button head coupler
Etc.

Next, confirm that the size of the coupler matches with the size of the grease fitting.
Last, identify how to access the grease fitting as this can influence the selection of a nozzle vs. a coupler.