Grease fittings are widely used throughout the aerospace and military industries to satisfy many of their lubrication requirements.  These industries demand the highest levels of reliability, durability, and performance from their supply chain partners and grease fittings are certainly not exempt from their scrutiny.  To better manage vendor selection based on quality standards, SAE International established the AS35411 standard and AS9100D certification, which "covers the requirements for threaded lubrication fittings, straights and elbows, to be used for admitting and retaining lubricants supplied by pressure lubricating equipment." (https://www.sae.org/standards/content/as35411/) It is worth noting that the AS35411 standard replaced the previously established MIL-F-3541 standard, which is reflected in the "AS" prefix on AS part numbers (previously the prefix was "MS").  Below is a list of AS/Aerospace grease fittings and their corresponding part numbers as established by SAE International.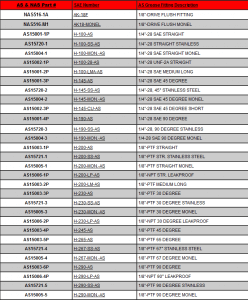 In order to ensure quality, only grease fittings that have been certified to AS standards can be used when AS standards are specified.  Vendors must provide proof of AS9100D certification and are often required to provide several documents including:
Certificate of Conformance
Chemical / Physical Analysis
Heat Treating
Dimensional Data
Test Data
Plating
Traceability
SAE Products has been awarded ISO 9001:2015 AND AS9100D certification with ZERO Non-Conformities by Perry Johnson Registrars. AS/Aerospace grease fittings from SAE Products meet SAE AS35411 Standards which require detailed performance testing, extensive documentation, sampling, dimensional checks and traceability of materials.  An uncompromising commitment to excellence in quality allows us to serve satisfied aircraft and military customers worldwide.  Our AS grease fittings meet the SAE AS 35411 Standard which supersedes previous (MS) Military Specifications MIL-F-3541.
With ISO 9001:2015 and AS9100D certification implemented, SAE Products® demonstrates its commitment to being the most reliable and technically competent partner for our customers and future collaborators in all industries.
Contact Us today if you are in need of an AS9100D certified partner for your AS Grease Fittings.