Your selection of grease fitting couplers is dependent upon the style of grease fitting it will connect to.  As discussed in a previous blog post, there are almost as many styles of grease fitting couplers as there are grease fittings.  Not to worry….by following the steps below, you will get it right every time!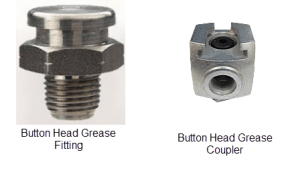 Selecting the correct coupling is critical to ensuring a properly lubricated system. 
First, identify the style of the grease fitting you need to connect to.

If it's a standard fitting then a standard hydraulic coupler will do
If a button head grease fitting, then you must choose a button head coupler
Etc.

Next, confirm that the size of the coupler matches with the size of the grease fitting.
Last, identify how to access the grease fitting as this can influence the selection of a nozzle vs. a coupler.
The standard hydraulic coupler is the most commonly used because it fits the standard style grease fitting.  Listed below are some of the other types of grease gun couplings you may need and when to use them.
SAE Products stocks a complete line of all grease gun couplers listed above and available for online purchase/same day shipping in a variety of sizes to meet your needs.  With over 30 years' experience in the lubrication supply industry, we're confident we can help you to select the right coupling every time.
Contact Us to buy grease gun couplers and we'll ship it to you that same day!