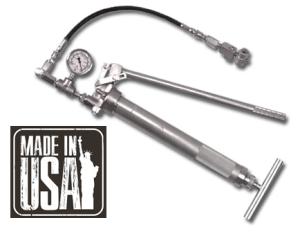 Our high pressure lever action grease guns are 100% made in the USA and are the most durable and dependable guns available, outperforming and outlasting conventional commodity grease guns.  These grease guns deliver up to 15,000 PSI and are suitable to dispense grease, sealants, fluids, packings, and highly viscous lubricants.  Engineered for high temperature and harsh environment applications such as offshore oil and gas rigs where steam, hot oil, and hot compressed gas are commonplace.  The ability to deliver grease at pressures up to 15,000 PSI provides more effective lubrication for high contact equipment such as pumps, valves (including pipeline 6A-6d), and rotating machinery.  Other common applications include pipelines, pumping & compressor stations, refineries & chemical plants, steel mills, lumber & paper mills, asphalt, rubber, water & sewage treatment plants, heavy equipment, manufacturing, mining, marine, industrial, and municipal utilities.
Among the many features and benefits is the ease of operation and smooth efficiency for such a rugged tool.  Usable in any position, these guns are long lasting and precision manufactured.  Additional features include:
Rated from 10,000 – 15,000 PSI
Accepts viscous lubricants, sealants, packing & cleaners
Completely rebuildable – replacement parts available for all components
Built-in check valve and pressure release
Easily refilled with grease in sticks or bulk
Hardened, precision ground one-piece plunger
Screw handle with primer cup provides automatic priming with each stroke of the lever
Heavy duty corrosion resistant metal construction
Ergonomic handle and lever

SAE Products offers 2 high pressure grease gun configurations.  The GUN-HP1 is the gun-only whereas our top seller is the all-in-one GUN-HP2, which includes the high pressure grease gun, 18" hose, pressure gauge, swivel, and button head coupler.  Standard and specialized NLGI No. 2, 3, and 4 lubricants in stick or bulk can be used with these guns.  A wide variety of standard and custom hose assemblies are available to meet every application.